AS SEEN in GOLF AFICIONADO by Rob Spellman

This past July I found myself making a last minute trip to Pinehurst, NC. When I say last minute, I mean it, my daughter who is 14 was a late qualifier for the 2018 US Kids Teen World Championship which is held annually at Pinehurst. The 3-day championship started on Thursday, July 26 and we did not find out she qualified until Sunday, July 22 so I had less than 2 days to figure things out.
As you might imagine, it was quite the mad scramble. While I couldn't have been more proud of my daughter, I had a logistical nightmare on my hands. Living in the Orlando, Florida area I had less than 2 days to figure out transportation and secure accommodations. I started with transportation, I'm not a big fan of long drives (unless they're with my driver) and I typically say 4-5 hours is my limit when driving in the car. However, when researching flights, I quickly found out there aren't a lot of great options when flying to Pinehurst.
The best flight option was going into Raleigh-Durham International (RDU), however, that still leaves you with an 80 mile drive to Pinehurst. I started doing the math, 45 minute drive to Orlando International Airport, arriving an hour early to check bags, 2-hour flight to RDU, 45 minutes to pick-up luggage and the rental car still left me with a 90 minute drive to Pinehurst; total trip time 6 hours (without any flight delays).
Google Maps let me know that the drive from Orlando to Pinehurst was 525 miles and would take between 7-8 hours depending on I-95 traffic. When I started comparing the cost of flying to driving it was easy to see driving was the most economical option. Looking back on it, I'm so glad we took the road trip. I always say anticipation is half the trip! We left the house Tuesday morning around 11 AM, traffic was great and we arrived in Pinehurst before 7 PM. This is the first road trip I've taken where my daughter didn't fall asleep, we ended up having blast, the whole way talking and building up our expectations for the tournament and Pinehurst. Without a doubt, if you're traveling within a 7-hour drive, the right move is to drive and not fly!
Onto accommodations, my first thought like so many when traveling to Pinehurst was to stay at …….. you guessed it, Pinehurst Resort. I mean when in Rome do like the Romans. However, I was quick to find out, Pinehurst Resort was sold out. To be honest, when I saw the price they were asking for a room I was disappointed and relieved all at the same time. Even with special tournament pricing, a room at the main resort was going for $270 a night and that doesn't include taxes and resort fees, for a 4-night stay in a hotel room I was looking at $1100 before taxes and fees. Without the tournament rate, the price for 4 nights would have easily been north of $1600.
With Pinehurst Resort sold out, I went back to Google and started researching the area. I started my search by learning more about the course my daughter would be playing, the tournament for the 14-year-old girls was being held on the Mid South Course. My research on the course led me to Talamore Golf Resort, the Mid South course is part of Talamore Golf Resort and come to find out they offer stay and play packages. I quickly picked up the phone and made a call to the resort, the call was answered by Nikki and she filled me in on all the details about staying at Talamore.
Nikki checked the calendar, and the resort had one condo available during my dates. She explained the accommodation details which included a full kitchen, laundry room, 2 bedrooms (4 queen beds), 2 full bathrooms, dining room, living room, balcony, and to top things off a free breakfast every morning.
The accommodations sounded great, designed more for buddy golf trips than a father-daughter trip, but who doesn't like extra space! I was all set up for the gut punch; how much was this going to cost me, after all, this was outside any special pricing the tournament had negotiated. I nearly fell out of my chair when Nikki told me the nightly rate was all-in (room rate, taxes and fees) just $190, a full blown 2-bedroom condo, around the corner from the course my daughter would be playing all week. SOLD!
Nikki arranged our reservation and shared all her local knowledge on where to eat and what to do while we weren't on the golf course. This being my first trip to Pinehurst, I wasn't sure what to expect so her local tips really helped. The best way to describe Pinehurst is that it felt as if we had traveled to the North Pole to see Santa Claus, except it was warmer and instead of reindeer everyone had a golf cart, it wasn't Christmas Village but Pinehurst Village.
The whole Pinehurst Village area has a Norman Rockwell vibe, you'll feel as if you traveled back in time; insider tip: during the summer time almost all the shops in the village shuts down around 5pm so plan accordingly and be prepared to travel outside the village for shopping and entertainment at night. As you drive around town you can't help but notice the Scottish roots which run deep into the 1700s when Scottish Highlanders settled in the area. In fact, you'll notice several familiar Scottish street signs around town and a nearby county is even named "Scotland County".
After exploring Pinehurst Village, finding our way back to Talamore Golf Resort ended up being quite easy, the resort has two large bunkers running along the main road which allows you to easily find the resort, even at night. Talamore ended up really being a blessing in disguise, for less than I would have paid for a hotel room at Pinehurst Resort I had a two bedroom condo with all the accommodations of home. The daily breakfast included; make your own waffles, fresh fruit, baked goods, and a large selection of cereal during the week; on the weekend they step things up and include several hot items like eggs, bacon, and sausage. Waking up every morning knowing breakfast was ready, made for a low-stress start to every day which is just one less thing to worry about.
Just when I thought the staff at Talamore couldn't do anything more, they did. It turns out, during the summer every Thursday night Talamore host an authenticate Carolina Pig Pickin! They even drive the beverage cart over from the Talamore golf course. Help yourself to drinks and as much Carolina BBQ as you can eat, I guarantee you won't leave hungry. You will not only enjoy the food but get to meet other guests and spend time with some of the resort staff, we had a great time and the Pig Pickin was one of the highlights of our trip to Pinehurst.
Bottom line, if you are traveling to Pinehurst with your family or extended family of golf buddies, you have to check out Talamore Golf Resort. In Pinehurst, your money is going to go a lot further at Talamore than anywhere else. When you factor in the accommodations of a condo at Talamore to a hotel room, it's like comparing apples and oranges. You'll still have access to all of Pinehurst's world-class golf, but you'll be able to stretch out and save a few dollars which you can use to play an extra round or two.
We haven't even talked about the golf yet, and trust me after walking Mid South for four days as my daughter's caddy, I have a lot to say. Check out my review of the Mid South Golf Course and find out why it's a course you must play when visiting Pinehurst.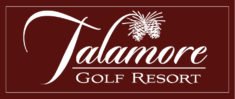 To book your stay and play at Talamore Golf Resort visit their website or give Nikki a call at (800) 552-6292!
Comments