Recently renovated Rees Jones design ranked No. 1 "Best Public golf course in North Carolina" and Top 10 in the US in Golfers' Choice 2021; also rated among the "Top 25 U.S. Golf Courses for Course Conditions."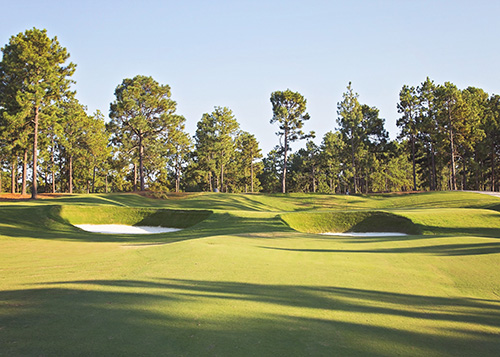 SOUTHERN PINES, NC (January 2021) — Golf Advisor has revealed its highly anticipated, annual collection of Golfers' Choice lists of the best golf courses in the United States, which can be found within dedicated pages on GolfPass.
Talamore Golf Resort in Southern Pines, N.C., was ranked as the No. 1 golf course in North Carolina. "I cannot wait to go back and play this course again," wrote one rater. "Amazing resort quality conditions at a fair price."
Talamore Golf Resort and nearby Mid South Club are sister properties under the Talamore Golf Resort umbrella of clubs. In more than a quarter century since this innovative resort near the Village of Pinehurst first debuted — offering llamas as caddies — the popular Sandhills golf getaway has remained on the cutting edge of resort innovation.
"We are always proud of our golf offerings at Talamore Golf Resort and these reader rankings further validate the high quality we want to present our members and our guests," said Matt Hausser, PGA General Manager of Talamore Golf Resort.
In 2018, the Village of Pinehurst Area Chapter of the National Golf Course Owners Association (NGCOA) named Talamore its "Course of the Year." The prestigious award came two years after a major restoration was performed on the golf course. A year later, the Arnold Palmer-designed Mid South Club — the only Palmer Signature course in the Sandhills — underwent a similar restoration and greens conversion along with numerous other club enhancements.
In all, these projects were among $6 million in capital improvements at Talamore's four North Carolina and Pennsylvania facilities.
The Golfers' Choice lists recognize top courses in 10 categories, highlighted by the "Top 50" overall, and also including: Most Improved, Value, Layout, Staff Friendliness, Pace of Play, Course Conditions, Off-Course Amenities. Talamore ranked #9 overall.
In the Golfers' Choice 2021 "Top 25 U.S. golf courses for Course Conditions," Talamore Golf Resort was ranked No. 22 in the entire country. "Really love this course," wrote one reviewer. "Excellent value for the money. Spacious tee boxes, which are important to navigate the angles on the many doglegs. Possibly the finest bunkers I've ever played out of… we drove an hour from Durham but it was WELL worth it."
Talamore Golf Resort became more player-friendly after its recent renovation. The green complexes were restored to their original 1991 Rees Jones design by recapturing the greens surrounds, which had been encroached by native Bermuda grasses. The greens were converted from bent grass to Champion Bermuda and have received rave reviews. Greens reconstruction and other course modifications were managed by Shapemasters, a well known international golf course construction company.
Talamore also received a major clubhouse renovation that included a new halfway house, an expanded bar, enclosed rear patio and comfortable seating with a unique new old time, rustic feel.
Relied on by recreational golfers for its one million-plus, user-generated golf course reviews and expert travel content, Golf Advisor recently completed its integration to GolfPass, the sport's most comprehensive digital destination and membership program. The Golfers' Choice lists – recognizing top courses in 10 categories as determined by golfers who shared their reviews throughout the previous year – are revealed each January and are Golf Advisor's most popular lists.
"2020 was a remarkable year for the game and that was reflected in the more than 265,000 reviews we received, a 72% increase year over year," said Brandon Tucker, senior managing editor for GolfPass. "The golf courses that were able to navigate the pandemic and still provide a safe and exemplary experience were rewarded by grateful golfers who found a refuge at their facility and thanked them for their efforts."
Grounds crews went above and beyond with their course conditions in 2020 at these public-access golf courses. Course conditions are one of six subcategories that reviewers can rate 1-5 in a golf course review at GolfPass. Unlike golf course rankings published by industry insiders who have access to golf courses the public may never have the opportunity to play, Golf Advisor's Golfers' Choice lists are totally consumer driven — by recreational golfers, for recreational golfers. Ages, handicaps and budgets of golfers using the website run the gamut, so the one million-plus reviews Golf Advisor has accumulated showcase the golf course characteristics that are the most important to avid golfers across the country.
"The average star rating from our community was at all-time highs," Tucker said. "And perhaps due to travel restrictions and guidelines, local-oriented courses within and near metro areas appeared to score particularly well in this year's lists."
More than 4,200 golf courses received the minimum 10 reviews in 2020 to qualify for consideration. All Golfers' Choice lists are based on more than 265,000 user-generated reviews received throughout the year.
GolfPass is designed for today's golfer and is the only digital golf membership that delivers exclusive content and comprehensive benefits designed to help every type of golfer — from beginner to expert — play more and better golf. Developed in partnership between global golf superstar Rory McIlroy and NBC Sports Group, GolfPass is a first-of-its-kind, direct-to-consumer subscription program, which offers opportunities to play more golf, comprehensive tools to improve any golfer's game and high-quality video content. Series included in the vast library of video content available exclusively as part of a GolfPass membership, are originals like The Conor Moore Show, Breaking into the Game: Juniors with Michael Bannon, My Daily Routine, My Roots, and more. A GolfPass membership is available in North America at GolfPass.com, in the U.K. and Republic of Ireland at GolfPass.co.uk, and in Australia at www.GolfPass.com.au. The GolfPass membership also is available via connected TV, iOS and Android apps.
Comments