Talamore Golf Resort Offers Access to the Historic
Pinehurst Courses No. 1 – 9
Pinehurst Golf Course No. 1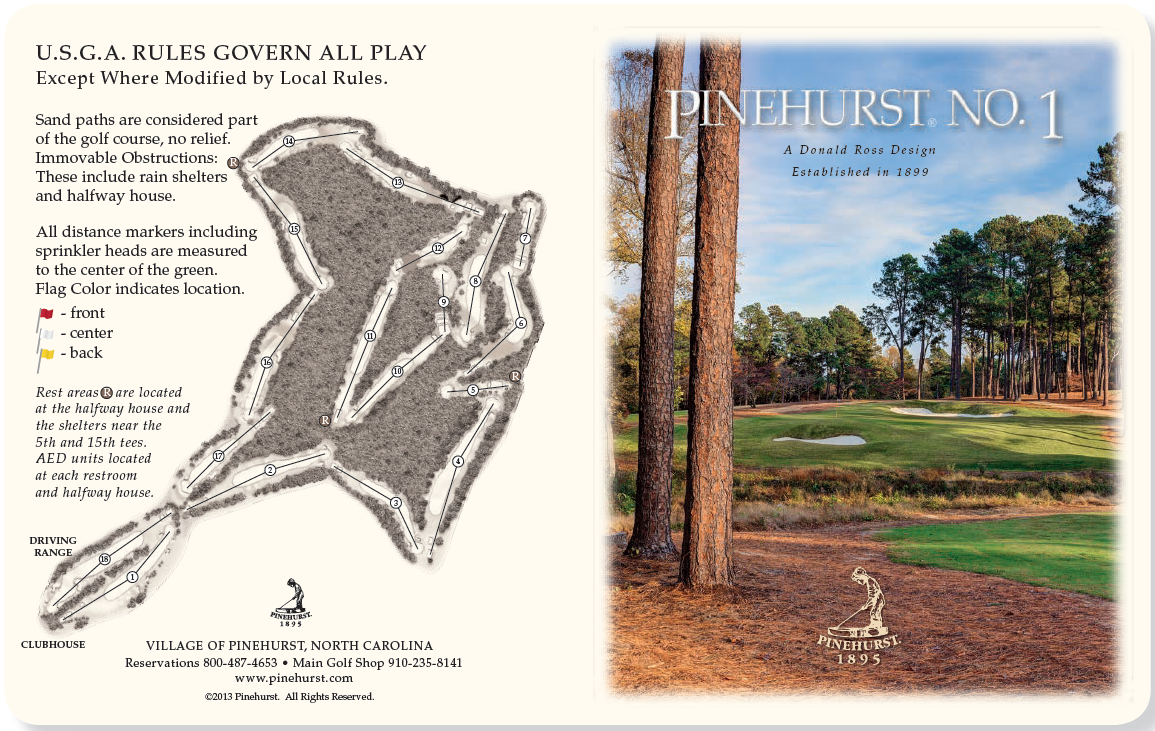 Step back in time to a classic golf course layout that's stood the test of time. Even though Dr. Leroy Culver built the first rudimentary nine holes and John Dunn Tucker added the next nine, it is clearly Donald Ross' touch that can be seen on this first golf course. Don't let the short 6,093-yard par 70 fool you – it's more of a course than it first appears. Wild drives or a sloppy short game can make for a long day. As with any golf course bearing Ross' name, it is ultimately very playable without losing its challenge – and a favorite for a great starting round. Pinehurst No. 1 reopened in 2008 after a nine-month renovation, making this member and guest favorite even better than before.
Read More About Pinehurst No. 1
---
Pinehurst Golf Course No. 2

The best of the best. No. 2 is a challenge not because of its length, topography, unruly routing, water features or green size – but because of the combination of factors that have made thousands laugh and cry at the same time. Undulating greens. Carefully placed bunkers. Strategic layout that tests both the long and short game. It is golf the way it was meant to be played, "the fairest test of championship golf" ever designed by Ross, in his own words. Pinehurst No. 2, the centerpiece of Pinehurst Resort, remains one of the world's most celebrated golf courses. It has served as the site of more single golf championships than any course in America and, in 2014, hosted 14 days of championship play with back to back U.S. Open and U.S. Women' Open Championships for the first time in their history.
Read More About Pinehurst No. 2
---
Pinehurst Golf Course No. 3


Test your game on the rolling terrain of this classic Donald Ross short course. Its greens were recently renovated with Penn G-2 bent grass, making putting accuracy even more at a premium. Ben Crenshaw said it best in the 1970s, when No. 3 made an impression. "I just don't think people understand how good those holes are. They're filled with interest. They're shorter, but there's plenty of character to them." A great course to start your stay at Pinehurst, No. 3 is the perfect warm-up for your next championship round.
Read More About Pinehurst No. 3
---
Pinehurst Golf Course No. 4
No. 4 combines the classical routing of Donald Ross with the contemporary vision of Tom Fazio, who re-imagined the course. Fazio, who considered No. 4 his tribute to Pinehurst, tipped his hat to Ross with crowned greens on many holes, and the addition of more than 140 pot bunkers. These, combined with several sprawling waste bunkers and more traditional sand traps, give the track a dizzying 188 sand hazards.

Most agree that Fazio elevated a good course to a great one with his work on No. 4. Indeed, it was selected as the co-site of the 2008 U.S. Amateur.
Read More About Pinehurst No. 4
---
Pinehurst Golf Course No. 5

Pinehurst and the Maples family are indelibly intertwined, and more so with this Ellis Maples golf course design. Opened in 1961, No. 5 holds true to a key Ross feature – Mother Nature as the best guide in golf architecture. The course has more water hazards to negotiate than any other course at Pinehurst. What you'll see is a lot of variety in the layout – uphill and downhill, left-to-right and right-to-left, long and short par fours. Overall, it is a very playable, enjoyable 18 holes that will not disappoint.
Read More About Pinehurst No. 5
---
Pinehurst Golf Course No. 6

When George Fazio and nephew Tom were selected to develop the sixth course, they were amazed at the contrast in topography compared to No. 2. "It was a very dramatic site with lots of elevation changes," said Tom. "What I saw was the ability to create a dramatic golf course on a strong piece of land, a different style of golf course." The terrain is more rugged, surrounded by woods, water and thick vegetation in spots, making it a challenge on every hole.

Its back nine remains one of the toughest amid the rest of Pinehurst's esteemed courses. But don't let the differences scare you – No. 6 is a favorite among members and returning guests.
Read More About Pinehurst No. 6
---
Pinehurst Golf Course No. 7
Located a mile away from the Main Clubhouse, No. 7 is unmistakably Pinehurst, but has a mountainous flavor as well. Uphill shots on eight of the 18 holes require power and pinpoint accuracy. Other interesting features make this a unique addition to the Pinehurst heritage, including vast bunkers that require bold tee shots, wetlands to clear and double doglegs. It also incorporated some old bunkers Ross put in place years before for an old employee's course – you'll find them beside the tee of the fourth hole.

The 18th, a downhill par 5 to a green flanked by water, shows that this course will test your game to the very end…so come prepared.
Read More About Pinehurst No. 7
---
Pinehurst Golf Course No. 8


Pinehurst No. 8 opened in 1996 to commemorate Pinehurst's centennial year. Fazio incorporated signature Ross features into the design of No. 8, including dips and swales around the greens, sloping greens and false fronts. The greens and tees are close together, making it a pleasure to walk. As the site of the PGA Club Pro Championship in 1997 and 1998, it is a proven championship course that daunts and delights all who play it. Located approximately 2 miles from the Main Clubhouse, it is a celebration of a century of great golf.
Read More About Pinehurst No. 8
---
Pinehurst Golf Course No. 9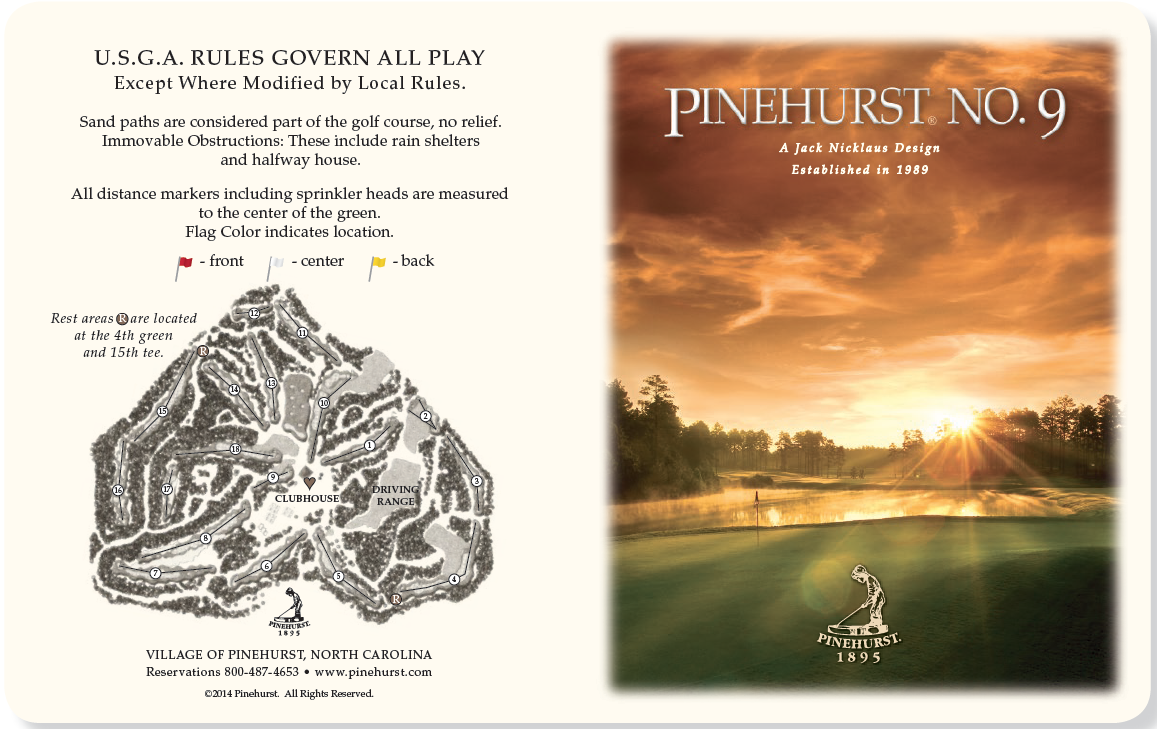 Built by Jack Nicklaus in 1988, Pinehurst No. 9 is a magnificent 7,122-yard course and is as meticulously designed as it is compelling. An intriguingly well-balanced course, this Nicklaus classic features wide fairways and undulating putting surfaces that test your mind and your true golfing ability. Each hole has been customized to create a great diversity in the way it can be played. Added to this uniqueness are tall pines, grassy swales, groomed waste areas and a natural variety of lakes and streambeds beautifully fashioned to give No. 9 its own distinctive look.
Read More About Pinehurst No. 9
---